Recruitment Innovation Exchange: Take It From The Top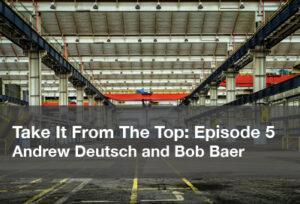 This month, BelFlex COO Andrew Deutsch and Vice President Bob Baer participated in Take It from the Top, a podcast brought to you by the Recruitment Innovation Exchange* (also known as RIX). The discussion is led by Leah McKelvey, Director of Global Enterprise Operations at Bullhorn.
On this episode, Andrew, Bob and Leah discuss BelFlex's community-minded approach and programming that supports the light industrial and manufacturing sectors, including:
Andrew's new position as COO, and BelFlex's role in the community
How BelFlex is influencing change in the skills gap, internally and externally
LIFT the TriState Program and why BelFlex chose to invest and provide mock interviews for students
BelFlex Junior Mentoring Program in 6 markets, soft skills and job preparation
Future plans for giving back

The Recruitment Innovation Exchange sparks dialogue and collaboration among global enterprise leaders and influencers. As the only purpose-built, peer-to-peer content platform for the industry, RIX serves as a venue for thought-provoking discussions and value-added strategies.