Five Job Searching Tips to Help You Stand Out
Boost your chances of landing a new job
Let's start with the obvious. The unemployment rate is at an all-time, record-breaking 50-year low. Across all industries and in nearly every part of the country, employers are struggling to fill their open positions.
Yet, at the same time, there are still many individuals who are raising their hands looking for work. Where's the disconnect? While these job seekers might have the right qualifications for a role, they lack the skills needed to successfully search for and land a job. Because, let's face it, job searching isn't for the faint of heart. It takes a sound strategy, the right attitude and a certain level of patience to find a job.
With so many moving parts during a job search, there are a few ways that some job seekers could be inadvertently hurting their chances of being offered their next role. Here's a checklist of five must-dos when looking for work, all the way from finding positions to apply for to saying yes to the job.
1. Widen your job search.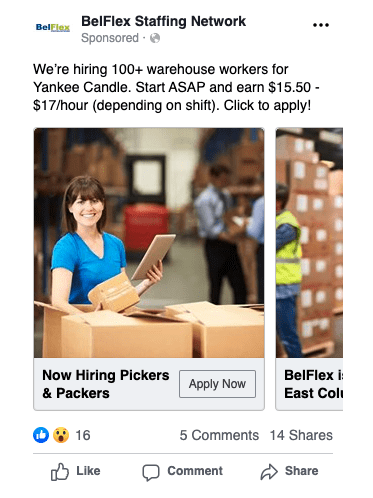 You don't know what you don't know. It's a popular saying that applies to open positions, too. If it's been a while since you've searched for a job, chances are you could be missing out on a new search channel or strategy. For example, companies are increasingly using digital methods to seek out talent, even in industries that previously relied on other sources. Facebook rolled out job search functionality last year, and many staffing firms are using social networking sites like Facebook and Instagram to post their latest openings. We certainly post our newest positions on the BelFlex Facebook page, giving you another way to see more opportunities. Knowing where to find these jobs and how best to respond to them can put you at a significant advantage.
2. Put your best foot forward when it comes to the application.
A Glassdoor study found that 60% of people are looking for jobs using their mobile phones. While on the surface it would appear that this would make it easier to apply for jobs, mobile job searching does have its issues. According to the Glassdoor study, mobile job seekers fully complete 53% fewer applications, and for those who do, it takes 80% longer. To stand out, think of your application as your first impression. Today's candidates aren't door-to-door salesmen: you don't get the chance to give your pitch about yourself to every potential employer in person. Your application stands in for you, giving employers a sense of who you are and why you are qualified for a role. For that reason, it's critical to fill it out completely with as much detail as possible.
3. Come prepared.
When you're in the thick of a serious job search, you're often applying to a variety of positions at multiple companies. Too often candidates don't prepare for their interview and do little to no research into the company and available positions. For interviewers, this can make it appear as if the candidate is not really interested in the opportunity. Take some time to do the appropriate research, and review your notes before walking into the interview. It will go a long way to showing your prospective employer that you're thoughtful and respectful of their time and would make a good employee. And if you're working with a staffing firm, they can help you further prepare by doing mock interviews and collaborating on the best way to tout your specific skills and experience.
4. Be realistic—and honest.
Not every open position is going to be a fit for you. Before you apply or go into the interview, make a list of what you're willing to commit to in terms of, for example, putting in overtime when necessary or expectations of continued learning such as new certifications or education. Accepting a job knowing that you can't meet the demands of the role is a waste of time for both you and your employer. Be honest and vocal upfront about what you're willing to commit to.
5. Court your potential employer.
Think about what you typically do when going on a date or trying to impress a family member or new friend. Apply that same mentality to your job search. Be ready to impress. From what you wear to the interview to how you communicate with the staffing firm recruiter or hiring manager after. Show up on time, be polite and complimentary, always follow up to say thank you and make yourself available if they have any additional questions. A little goes a long way to making a good impression.
Following these five tips can help you be on your way to a more successful—and shorter—job search. If you're currently on the hunt for a new role, contact BelFlex to learn more about open positions with our clients that could be a fit for you.