Who is BelFlex: Meet Jason Matney, Our Midwest Regional Leader
Meet Jason Matney
(It's no secret that a company's greatest asset is its team, and here at BelFlex we are lucky to call some really great folks our employees. For this blog series, we sat down with a handful of our staff to hear what it's like to work at BelFlex from their corners of the office.)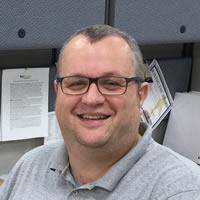 Meet Jason Matney. Jason has been with the company since November 2009. From that first job as a temporary on-site manager to his role today as the Midwest Regional Leader, he's known as someone who likes to have a fun at the office while keeping focused on taking care of our clients and associates.
Hi Jason! Tell us how you ended up at BelFlex.
It's the definition of being in the right place at the right time! I went to the Columbus office looking for a seasonal second job to help pay for Christmas gifts for my family. As luck would have it, our director of business development Bob Baer (now the company's Vice President) was in the office that day. He was recruiting for peak season and thought I would be a good fit as an on-site manager at a new customer's facility. I completed that assignment and, after staying in touch for the next several months, a full-time opportunity became available and I immediately accepted the position. The rest, as they say, is history.
Any proud moments to share?
Being promoted to the Midwest Regional Leader is something that certainly sticks out for me. It just shows what kind of company BelFlex is… A guy like me who starts off as a temporary associate can earn his way up to the management team.
What's most interesting to you about working in the staffing industry?
In my role, no two days are the same. What worked yesterday may not work tomorrow and what didn't work yesterday may be the solution tomorrow.
What do you do when you're not at work?
I have been married for 12 years and have three beautiful, rambunctious children who get most of my time. When I do have free time, I do enjoy playing golf and softball.
If you could have any other job in the world, what would you be?
This is a tough one for me… I would either want to be a PGA Tour golfer or the Offensive Coordinator at Florida State.