Who is BelFlex: Meet John Murlin, Our Business Development Expert
Meet John Murlin
[vc_row][vc_column][vc_column_text](It's no secret that a company's greatest asset is its team, and here at BelFlex we are lucky to call some really great folks our employees. For this blog series, we sat down with a handful of our staff to hear what it's like to work at BelFlex from their corners of the office.)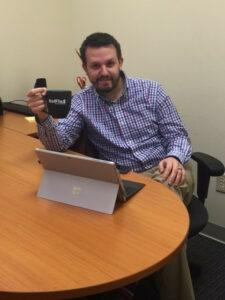 Meet John Murlin. He's more than three years into his second stint with BelFlex, after briefly considering the Southeast coast home in between. He's been an ice cream vendor and door-to-door salesman, so leading the Business Development efforts are a breeze in comparison.
Tell us how you ended up at BelFlex.
I actually ended up at Belflex the first time in an HR role because of a referral and knew little of the staffing world other than what I learned in college. The second time, I just missed the industry. You learn and see something new every single day. I was lucky enough this time to do sales. I love sales because you get to see a wide range of how products are made in the industry and every day is rewarding. You get to meet new people and your customers become part of the family as well.
What's a typical day look like for you?
It starts as soon as I wake up. Checking client emails, helping each office I work in by checking in. I start off by trying to do 20-25 sales call a day. Then I get out in the field, doing drop off campaigns, talking to community leaders and participating in local Chamber of Commerce events. Our days are really never over in this industry since we are 24/7.
Any proud moments to share?
Through the BelFlex Junior Mentoring Program, I have the opportunity to help young adults prepare for the workforce, and it's incredibly gratifying. I actually gave the commencement speech for the school we worked with here in Ohio. In the speech I explained all of the challenges I faced that were similar to their struggles, and that you may fail sometimes but you have to stand right back up and push forward to be successful. The program is so rewarding because you get the opportunity to shape lives. If I can help just one student to not go down the wrong path and show them that they will be successful, then that is victory in itself. These young adults are our future and I want to help every single one achieve their goals in life!
What's most interesting to you about the staffing industry?
The most interesting thing is seeing how products and the manufacturing industry works. It is humbling to see what our employees do to help out the industrial world. A lot of these jobs are not simple.
What do you do when you're not at work?
When I am not at work, I am at church or with my wife and dog hiking. Also, we are always with our family! I play a lot of disc golf, try to play guitar and really anything with sports.
If you could have any other job in the world, what would you be?
I would say a counselor to children or a youth pastor.[/vc_column_text][/vc_column][/vc_row]