Who Is BelFlex: Meet Ann Hollingsworth, Our Community Outreach Manager
Meet Ann Hollingsworth
[vc_row][vc_column][vc_column_text](It's no secret that a company's greatest asset is its team, and here at BelFlex we are lucky to call some really great folks our employees. For this blog series, we sat down with a handful of our staff to hear what it's like to work at BelFlex from their corners of the office.)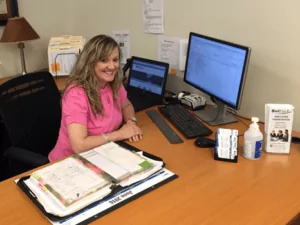 Meet Ann Hollingsworth. Ann joined our team in 2013 as a staffing supervisor in our Tuscaloosa office. She recently changed roles and is now our Community Outreach Manager leading the BelFlex Junior Mentoring Program (BJMP), which is expanding to five new cities in 2017. She's an enthusiastic member of our team who brings her passion and energy for giving back to this new role.
What's a typical day look like for you?
I wake up happy knowing that I'm promoting the BJMP with other offices who share the same passion as I do. I interact with everyone from members of city council, workforce development and the chamber of commerce to local schools and news media outlets. The sky's the limit on promoting BelFlex and the BJMP!
Tell us in 10 words or less what it's like to work at BelFlex.
Exciting, rewarding, challenging, optimistic, succeeding together, caring, community minded and fun.
Any proud moments to share?
I've very proud of the way the BJMP has grown and love that I get to be a part of it. Aside from that, our work with Easter Seals stands out for me. For two years now we've given individuals who've never had any work experience a chance to work with BelFlex. They worked in our office for a week, signed a time sheet and received their very first pay check. When attending the awards ceremony, I almost started crying seeing their parents tear up for joy that their child had a real job for a week.
We know BelFlex supports various charitable giving opportunities. How have you personally participated in its activities?
Yes, I participated in the Santa's Elves charity event that donates Christmas gifts for kids in need. BelFlex was a major contributor last year and helped give an additional 200 gifts. Everyone pitched in, including some of our executives who traveled from our headquarters in Ohio to help wrap presents!
What do you do when you're not at work?
I'm attending Chamber of Commerce events, church, working out and taking care of feral cats in town by helping them get spayed or neutered, fed and administering medicine.
If you could have any other job in the world, what would you be?
Public Relations Specialist.[/vc_column_text][/vc_column][/vc_row]